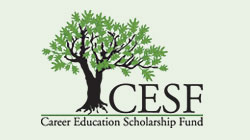 How to donate


Your donations make a huge difference
We believe that talent and commitment – not the ability to pay tuition and fees – should open the doors to a college education. Private gifts in support of scholarships allow exceptionally able and worthy students to obtain a college education despite increasing cost. For many people, such gifts mean the opportunity to pursue their lifelong dreams through higher education.

The Career Education Scholarship Fund
The Career Education Scholarship Fund is a nonprofit 501(c) (3)fund dedicated to providing both need-based and merit-based scholarships to qualified students who are attending one of its many participating institutions.
Board of Directors
Lawrence D. Levin
CESF - Director

Lawrence D. Levin is a Partner with Katten Muchin Rosenman LLP, where he concentrates on corporate and securities law and is Co-Chair of the firm's national Securities Law Practice. Mr. Levin advises corporate clients and boards of directors on securities registration, regulation and compliance issues, as well as transactional and general corporate matters. Mr. Levin is the former Chairman of the Chicago Bar Association's Securities Law Committee and of both its 1933 Act Registration and Reporting Subcommittee and its 1934 Act Reporting Subcommittee. Mr. Levin is a member of the Board of Directors of Katten Muchin Rosenman LLP, as well as a member of the American Bar Association, where he is an active member of the Federal Regulation of Securities Committee of the Section of Business Law. He is listed in the 2010 edition of The Best Lawyers in America.
William R. Loesch
CESF - Director

William R. Loesch is a principal in the Goldberg Kohn Corporate, Securities & Tax Group. He advises businesses ranging from start-ups to public companies in a variety of matters, including mergers and acquisitions, joint ventures and other strategic alliances, debt and equity financing, dealership and distributorship relationships, and employment and consulting agreements. Mr. Loesch also has extensive experience in education law, particularly in mergers and acquisitions of post-secondary schools, both domestic and international. Mr. Loesch is involved in a variety of charitable and civic organizations. In particular, he has performed pro bono services for numerous artists and art-related enterprises, including Division 13 Productions, a not-for-profit theater organization for which he serves on the board of directors.
Nancy J. Mann
CESF - Director

Nancy J. Mann is a graduate of American Intercontinental University (AIU) in London with a degree in Interior Design. She began her career with the Fortune 500 company GF Furniture Systems in commercial design and space planning. For the past 30 years Ms. Mann, with her company Nancy Mann Design, has designed homes and equestrian estates along the East Coast. Nancy's projects have been highlighted in "Aiken (SC) Homes and Lifestyles" magazine and in 2016, she was recognized by the Historic Aiken Foundation with the Leadership Award for her work on a historic property in Aiken, SC. Ms. Mann has served on the AIU Board of Trustees since 1986 and was Board Chairperson from 2010-2014. She is passionate about the importance of providing access to higher education for all, regardless of background or income level.
Stacey R. Sauchuk
CESF - Director

Stacey R. Sauchuk earned her Ph.D. in School Psychology from Temple University, in Philadelphia. Combining her social work and psychology degrees with increasing levels of business responsibilities, Ms. Sauchuk has held leadership roles in several different business sectors including Valley Forge Military Academy and College, Education Management Corporation, The Art Institute of Philadelphia and American Day Treatment Centers. She has served as an adjunct professor at Holy Family College and Eastern University. Ms. Sauchuk is currently the Executive Director at Church of the Saviour in Wayne, Pennsylvania with responsibilities in finance, human resources, IT, ground and facility management, and overseeing the licensing and accreditation of the church and school. She has been a member of the U.S. Chamber of Commerce Education, Employment and Training Committee since 2008.