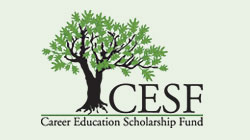 How to donate


Your donations make a huge difference
We believe that talent and commitment – not the ability to pay tuition and fees – should open the doors to a college education. Private gifts in support of scholarships allow exceptionally able and worthy students to obtain a college education despite increasing cost. For many people, such gifts mean the opportunity to pursue their lifelong dreams through higher education.

The Career Education Scholarship Fund
The Career Education Scholarship Fund is a nonprofit 501(c) (3)fund dedicated to providing both need-based and merit-based scholarships to qualified students who are attending one of its many participating institutions.
How to Support the CESF
Donating to the Career Education Scholarship Fund is simple, no matter the size of your donation. If you think you can't afford to give enough to make an impact on a student's life, think again. Any amount can help a deserving student further his or her education.
Gifts can be given through:
Our secure online system, the easiest way to start making a difference in the lives of students
One-time gift made by cash, check or credit card

Giving by cash, check, or credit card is the simplest way to make a gift to CESF. These gifts can result in immediate tax savings for you and provide the CESF with the funds for current use.
Checks should be made payable to Career Education Scholarship Fund and sent to:

Career Education Scholarship Fund
231 N. Martingale Road
Schaumburg, IL 60173
If you have a passion for helping students pursue their educational dreams, your contribution can help make dreams come true.Donate online today!