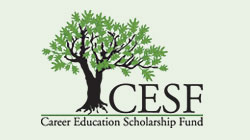 How to donate


Your donations make a huge difference
We believe that talent and commitment – not the ability to pay tuition and fees – should open the doors to a college education. Private gifts in support of scholarships allow exceptionally able and worthy students to obtain a college education despite increasing cost. For many people, such gifts mean the opportunity to pursue their lifelong dreams through higher education.

The Career Education Scholarship Fund
The Career Education Scholarship Fund is a nonprofit 501(c) (3)fund dedicated to providing both need-based and merit-based scholarships to qualified students who are attending one of its many participating institutions.
STUDENT TESTIMONIALS
Scholarship recipients are asked to explain why they are seeking a CESF scholarship; here are a few of their statements. Statements have been edited for length.
AIU student, Georgia
I am seeking this scholarship because of financial need and the desire to complete my degree. I am a single parent who works full time and attends school full time because the pursuit of my dreams is bigger than me. My success means success for all those who I plan to encounter in my future.
AIU student, New Mexico
I understand the path to accomplishing this goal will be a challenge. However, I come from a family where many family members do not graduate high school, let alone have ambitions of pursuing a college degree. I want to be the family member that changes the opportunities and possibilities for the family. I like to think of myself as a role model for my family so if they see me become successful that will inspire them to set educational and career goals of their own.
CTU student, Idaho
Know that this scholarship will be helping me achieve my hopes and dreams of becoming a more educated person, a better-equipped individual that'll have doors opened while not suffering from the significant financial burdens that student loan debt can cause.
CTU student, Texas
In a society that seems so fast paced and like most everyone is only looking out for themselves, I want to be the person that can look out for others. This scholarship would greatly help take off some of the expense I will later pay to obtain this degree as well as help me achieve my educational goal with a little less stress. I am employed full time and a single mother who is looking to achieve a degree in something I truly have passion for. I also want to show my daughter that no matter what comes in life it is never too late to follow your heart/dreams.